Keeping you home clean is important for many reasons. For one, clean building materials simply last longer, meaning your home could last longer without expensive repairs. Also a clean, well maintained home is a point of pride for the owners and the neighborhood; nobody wants to live next door to a dirty home. But keeping the exterior of your home clean is not that easy. There are many surfaces that are tough to clean such as concrete and brick. It is these areas that pressure washing proves extremely valuable.
How Pressure Washing Works
Pressure washing is simply the process of using pressurized water and cleaning products to clean a surface that either cannot be cleaned or could not be cleaned efficiently through traditional methods. In the hands of a professional, pressurized water can dislodge any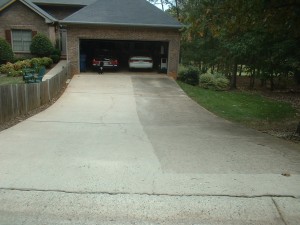 kind of dirt and grime that can accumulate on brick pavers, sidewalks or concrete driveways. One area where the power of pressure washing can be readily seen is in the driveway.
Achieve Great Results
Driveways tend to accumulate oil and other stains as a result of small leaks from the cars parked on them. These stains are incredibly tough to remove using traditional cleaning techniques. Whereas a home owner may spend an entire day scrubbing their driveway and get minimal results, a trained professional can pressure wash your driveway and, in a small fraction of the time, leave your driveway looking brand new! If pressure washing can remove sunbaked oil stains imagine what it can do for the rest of your home!
Hire A Proven Professional
The water that comes out of a commercial pressure washing machine is under pressure. If used by a novice it can cause great harm to your concrete surfaces and home. In some instances bodily harm can happen. It is best to hire a professional power washer to do the job for you. With ARC Power Washing you'll be working with a company with years of experience and know how. It is our goal to not only clean your home but to leave your completely satisfied. Why wait? Contact ARC Power Washing today for all your residential pressure washing needs!
Why Choose
J & L Professional Services?
Quality

It's simple really. We're not the cheapest. WE'RE THE BEST.

Insured

Commercially Insured Up To $2,000,000

Experience

Over 20 Years of Experience & Operated by A National Instructor

Guarantee

Backed By Our 100% Satisfaction Guarantee

Reviews

Did We Mention We Have the Highest Customer Rating in Raleigh?