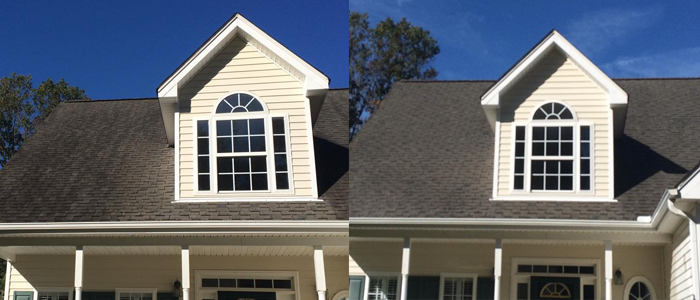 Don't Let Those Black Streaks Ruin Your Home's Curb Appeal!
J&L Professional Services offers state of the art roof cleaning services. Many people dread the dirty roof (looks like black streaks or soot creeping down your roof that seems to be plaguing the Triangle in recent years.
J&L Professional Services can not only tell you why your roof is so dirty, but we can provide the breath-taking results that you see in the picture to your right!
Why Is My Roof So Dirty??
In years past, cleaning your roof was seldom necessary.   This all changed with the introduction of fiberglass roofing shingles during the past 20 years.
Fiberglass roofing shingles put on most houses today contain massive amounts of limestone promotes algae growth. Because the Algae on your roof is now being "fed" by this filler, the newer, "limestone enhanced" roofing shingles, get "dirty" even faster!
J&L Professional Services has demonstrated the ability to remove those ugly, black stains on your roof without the use of a power washer. We use a No Pressure Roof Cleaning Procedure that keeps your Roof Warranty in tack. Blasting away at your roof with a Power washer at low pressure or high pressure CAN VOID YOU ROOF WARRANTY.
Why Choose
J & L Professional Services?
Quality

It's simple really. We're not the cheapest. WE'RE THE BEST.

Insured

Commercially Insured Up To $2,000,000

Experience

Over 20 Years of Experience & Operated by A National Instructor

Guarantee

Backed By Our 100% Satisfaction Guarantee

Reviews

Did We Mention We Have the Highest Customer Rating in Raleigh?
Our Roof Cleaning Services
Procedure

Will NOT Void Your Roof Warranty 

Guarentee

Will NOT Harm Your Shingles