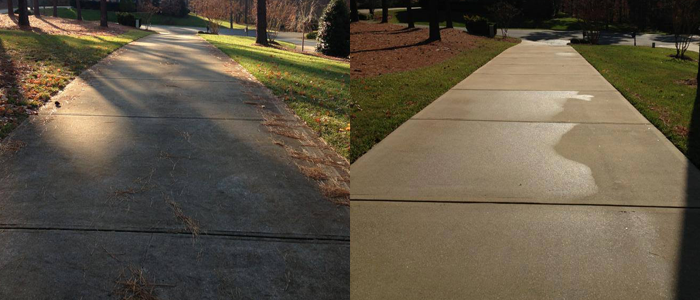 Having Your Driveway Professionally Cleaned
J&L Professional Services is proud to offer driveway cleaning. As you can see in our video below, our driveway cleaning services have a stunning effect & can bring your "Curb Appeal" to a new level! Along with driveway cleaning, we also offer patio cleaning, walkway cleaning & other concrete cleaning services.  We can even clean the concrete inside your garage without damaging your interior walls or sheetrock.
Watch J&L Professional Services Clean This Driveway!
Something You Should Know About Some of Those Driveway & Walkway "Stains"
Only 30% of driveway stains are produced by automobile fluids. A major 70 % of Driveway & Concrete Stains is caused by fungus, molds and mildew! If you walk onto a fungus covered surface, with or without shoes, you will track fungus spores into your house, car & office!
Your contact with fungi spores can make you, your family, pets and coworkers sick! Protect your loved ones today by scheduling a Driveway Cleaning, Staining & Sealing service today.
Driveway, Walkway & Patio Cleaning Services We Offer:
Hot Water Cleaning
Spot Removal
Interior Garage Floor Cleaning
Staining & Sealing
Our Driveway Cleaning Gallery