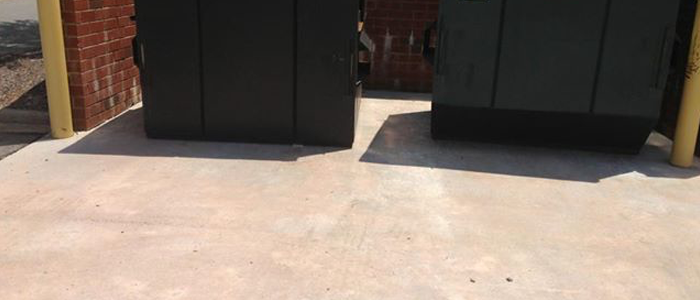 Cleaning Your Dumpster Pad Professionally
Dumpster pads are in sight near many places of business. They are crucial for the disposal of trash and other waste. Of course, this essential area can be extremely unpleasant and dirty. Not only should dumpster pads be cleaned frequently for aesthetic reasons, they also must be thoroughly sanitized to prevent infestation by bacteria, rats, and other pests.
J&L Professional Services will make sure that your dumpster pad is as clean as possible.  We have been the headquarters for power washing in Raleigh for over fifteen years. Our expert professional team will make sure to eliminate all grime, dirt, oil and any other hazardous material. We can also remove any foul odors that are emanating from the dumpster pad.
---
ASK US ABOUT WATER RECLAIM SO HARMFUL GREASE & DIRTY WATER IS NOT GOING DOWN THE DRAIN
Our Dumpster Pad Cleaning Projects: