It's hard to miss a professional pressure washer when you are driving down the street. Usually they have truck or flatbed pulling a tank, a bunch of houses and some cleaner. Most people think they know what pressure washing is, water coming out of a hose real fast. Something you could recreate at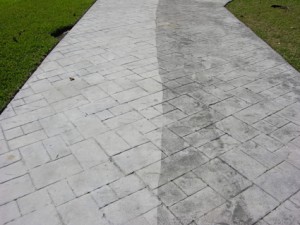 home with a pressure washing unit purchased from your local home improvement store.  However, there is so much more to professional pressure washing. Consider a few points.
Deep Cleaning
It is true that pressure washing involves water coming out of a wand or hose at a high pressure to clean a surface. Professional pressure washers use a grade of equipment that cannot be purchased at your local store. This equipment can achieve pressures far greater than a consumer grade pressure unit. This allows the water to penetrate much deeper into the surface and clean far more thoroughly. In the hands of a novice, the pressure from these units is great enough to damage any surface. In the hands of a professional, these units can make your concrete driveway, sidewalk or deck look like new!
Cleaning Aids
A professional pressure washer, or power washer if you will, knows that there are many different tools to clean the many different surfaces that exist. A good, quality pressure washer will also use a low pressure system combined with cleaning agents that give your home or siding that "just out of the box" appearance. The absolute best pressure washer will also care about the environment around your home and will use on environmentally friendly cleaning agents. This is the ARC Power Washing difference!
Pressure Washing – Maintenance You Shouldn't Do Without
When driving through a neighborhood it is easy to spot the homes that are well taken care of. These homes almost always enjoy the benefits of a regular pressure washing routine. Pressure washing your home, driveway and sidewalks remove molds and fungus that traditional cleaning simply cannot, house paint becomes brighter, driveways and sidewalks are whiter! ARC Power Washing has been serving the Raleigh / Triangle area for over 15 years. Your total satisfaction is our goal! Call ARC Power Washing today! (919) 889-0733.
Why Choose
J & L Professional Services?
Quality

It's simple really. We're not the cheapest. WE'RE THE BEST.

Insured

Commercially Insured Up To $2,000,000

Experience

Over 20 Years of Experience & Operated by A National Instructor

Guarantee

Backed By Our 100% Satisfaction Guarantee

Reviews

Did We Mention We Have the Highest Customer Rating in Raleigh?