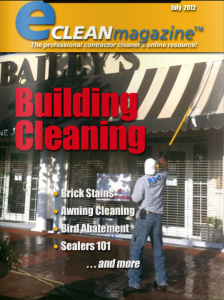 So you have heard all about the benefits of pressure washing. How nothing can clean as efficiently, or how pressure washing can restore you concrete or wood deck surfaces. You have heard how pressure washing can remove mold and mildew. You even know that pressure washing can even save you money in the long run by preventing the premature breakdown of the building materials in your home or commercial building. So you open the phone book and there are literally hundreds of pressure washing contractors to choose from, how do you select the best pressure washer for your job?
Experience
From time to time you see new pressure washing companies run special advertisements. The deals look great but consider this, pressure washing at it's core is the process of shooting water out of a hose at velocities high enough to chip concrete in some cases. Who do you want aiming that wand at your home or business? Someone in their first week (or worse, first day) or someone who has years of experience and understands the subtle yet substantial differences between surface types and is versed in the many different techniques to clean different stains from different surfaces?
Reputation
When selecting a pressure washing contractor it is always good practice to look for testimonials from past customers. Testimonials are a great way to get a feel for how the company performs and treats its customers. Testimonials can be found on the pressure washing contractors' website, community applications such as Yelp! and Google Places and even the Better Business Bureau.Of course, national publications are also a great way to learn about a pressure washing company. If a local pressure washing company is featured in a national magazine then their work is likely to be very good.
ARC Power Washing – Experience, Reliable, Reputable
J&L Professional Services has been serving the Knightdale NC / Triangle area for over 15 years. We are proud that many of our customers are repeat clients. We invite you to peruse our website and read our testimonials. J&L Professional Services is also proud to announce that we have been selected to be on the front cover of the July 2012 eClean Magazine, a national publication geared towards other professional contract cleaners. Call or contact J&L Professional Services today to request your free estimate and see for yourself why so many are talking about ARC Powerwashing! (919) 889-0733.
Why Choose
J & L Professional Services?
Quality

It's simple really. We're not the cheapest. WE'RE THE BEST.

Insured

Commercially Insured Up To $2,000,000

Experience

Over 20 Years of Experience & Operated by A National Instructor

Guarantee

Backed By Our 100% Satisfaction Guarantee

Reviews

Did We Mention We Have the Highest Customer Rating in Raleigh?