Awnings, be it on a commercial building or a home, can make a huge difference on the property it is attached to. When done right, awnings can take a regular window space and transform it a cozy inviting setting. Besides the fact that they add a touch of style to a home or professionalism to a business they also serve practical purposes.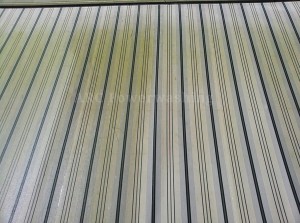 Awnings can keep the blistering mid-day sun from shining directly through your window (which in turn, keeps your a/c bill down), they also serve as shelter for customers waiting in the rain to be picked up. Because of the material they are made of and their direct exposure to the elements, awnings can become very dirty very quickly!
From Eye Appeal To Eye Sore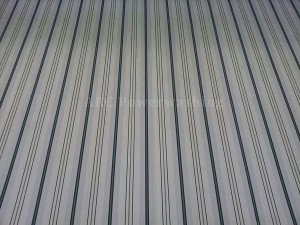 If you own awnings then you already know that without the proper care and cleaning your awnings will go from fab to drab in no time.  Being directly exposed to the elements and the weather age your awnings quicker than anything. Awnings can accumulate a type of dirty grime that almost laminates them and without the proper awning cleaning these film deposits are nearly impossible to remove. Regularly pressure washing you awnings is the only efficient answer to removing these deposits and preventing new ones from occurring.
Pressure Washing Your Awnings
Cleaning your own awnings (especially after these deposits have started to take hold) can be a nearly impossible task. The proper tools and attachments need to be determined, as well as the proper detergents. The selection of these is dependent on the material your awnings are made from. Make the wrong selection and you may damage or even destroy your own awnings. For that reason awning cleaning, both residential and commercial, is best left to the pros.
J&L Professional Services – Your Local Awning Cleaning Expert
There is no doubt that hiring a pressure washer to clean your awnings can save you time and potential a lot of money. If you are looking into having your awnings cleaned or would simply like more information about awning cleaning, contact J&L Professional Services today. With more than 15 years cleaning awnings, J&L Professional Services has the experience and tools to make your awnings look like new. Call or contact J&L Professional Services today to schedule your awning cleaning service!
Why Choose
J & L Professional Services?
Quality

It's simple really. We're not the cheapest. WE'RE THE BEST.

Insured

Commercially Insured Up To $2,000,000

Experience

Over 20 Years of Experience & Operated by A National Instructor

Guarantee

Backed By Our 100% Satisfaction Guarantee

Reviews

Did We Mention We Have the Highest Customer Rating in Raleigh?