Newspaper headlines today seem to be pointing towards a recovery of the economy. However, in speaking to most people (especially business owners) they seem to feel the opposite is happening. No matter what side of the fence you fall on one – recovery or recession – one thing is for certain, this has been one of the hardest economic cycles in our lifetime.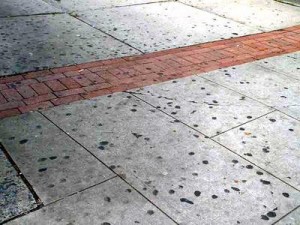 During tough economic times it is important for businesses to be mindful of every dollar spent and to prevent unnecessary expenditures in order to stay afloat. Pressure washing your storefront or commercial building is one of the most beneficial things a business owner can do, here's why.
Customers Won't Shop At A Dirty Store
When was the last time you, as a consumer went into a business that, on the outside, looked dirty? As a rule most people will avoid an establishment that appears to be a state of disrepair, especially if a similar establishment is nearby and clean. Pressure washing your storefront or commercial property allows your business to put forth a professional appearance. It tells your customers that you care about your business and want them to have a pleasant experience! There are no two ways about it, a nice clean outside makes for an inviting place to do business inside. Because pressure washing the outside of your store can lead to more walk-in traffic and in theory more sales, pressure washing is an investment that often provides a significant return on investment!
Avoiding Costly Repairs
In tough economic times avoiding a costly structural repair could mean the difference between staying in business and going out of business. Pressure cleaning your commercial property on a regular basis prevents a buildup of dirt, grime, and mold. This is important for more than aesthetic reasons, over time dirt and mold can actually degrade the building materials of your commercial property leading to expensive repairs that subtract from the profitability of the business!
J&L Professional Services – Experienced, Professional, Efficient
Pressure washing is a safe, clean and fiscally efficient way to maintain the exterior of your business. So why choose ARC Powerwashing? J&L Professional Services uses state of the art equipment and time tested techniques, along with environmentally friendly products, to make your storefront or commercial property look its absolute best. We do all this with your satisfaction in mind. Our years of experience and powerful testimonials speak for themselves. Contact us or give us a call today and find out why so many business owners in the Raleigh area turn to ARC Powerwashing! (919) 889-0733
Our Commercial Pressure Washing Services Include:
Remove gum, grease, or other unsightly substances from sidewalks or entrances
Remove stains from buildings, signage, and Awning Cleaning
Clean greasy, dirty dumpster areas
Entryway Cleaning
Parking lot Cleaning
Sidewalk Cleaning
Walkway Cleaning
Driveway Cleaning
Building Cleaning
Drive-Thru Cleaning
Stairwell Cleaning
Why Choose
J & L Professional Services?
Quality

It's simple really. We're not the cheapest. WE'RE THE BEST.

Insured

Commercially Insured Up To $2,000,000

Experience

Over 20 Years of Experience & Operated by A National Instructor

Guarantee

Backed By Our 100% Satisfaction Guarantee

Reviews

Did We Mention We Have the Highest Customer Rating in Raleigh?