If you have ever considered have your Wake Forest NC home professionally cleaned, or pressure washed, you no doubt hear about services such as gutter cleaning, and deck cleaning on top of the actual house cleaning itself. These services can make a dramatic difference in the appearance and pride one has in their home. However there is one part of your home that you may not have given much consideration to pressure washing ever though it can have just as large an impact of the appearance of your home, we are speaking of your driveway.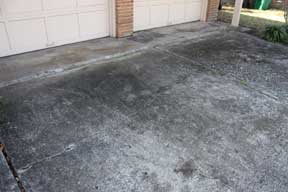 Many people don't think too much about pressure washing their driveway because it is out of sight and out of mind. The majority of the time that people are in their homes their cars are parked in the driveway and cover up unsightly oil and rust stains along with mold and fungi growths. It isn't until they move the car that the ugly truth is reveal. A beautifully clean home can be marred the appearance of a dirty driveway. Pressure washing your driveway not only ensures a uniformly clean look it also provides a completely clean surrounding for your entire family to enjoy. Pressure washing your driveway, sidewalk or walkway not only clears away the fungi and mold that one can see, it also removes the spores they release. These spores can make you, your family and pets sick!
J&L Professional Services is proud to offer a complete array of driveway and concrete cleaning solutions to Clayton, NC and its surrounding areas.  Whether you have a traditional driveway or a longer private drive J&L Professional Services has the tools and experience to pressure wash your driveway the right way! Call today! (919) 889-0733.
ARC Power washing provides the following driveway, concrete, walkway and patio cleaning & restoration services in the Clayton / Triangle area:
Driveway Cleaning
Walkway Cleaning
Sidewalk Cleaning
Concrete Patio Cleaning
Driveway Staining
Walkway & Sidewalk Staining
Real Estate Driveway Cleaning – Call Us For Special Pricing!
Property Management Driveway Cleaning – Call Us For Special Pricing!
Townhome Complex Driveway Cleaning- Call Us For Special Pricing!
Homeowner's Association (HOA) Driveway Cleaning – Call Us For Special Pricing!
Also See Our Other Services:
Low Pressure House Washing
Gutter Cleaning
Awning Cleaning
Window Cleaning
Deck Cleaning & Restoration
Roof Cleaning & Black Spot Removal
Why Choose
J & L Professional Services?
Quality

It's simple really. We're not the cheapest. WE'RE THE BEST.

Insured

Commercially Insured Up To $2,000,000

Experience

Over 20 Years of Experience & Operated by A National Instructor

Guarantee

Backed By Our 100% Satisfaction Guarantee

Reviews

Did We Mention We Have the Highest Customer Rating in Raleigh?