If you have been following the events down in Florida this past week then likely you have seen images of tropical storm Debby. This tropical storm, moving very slowly across the peninsula, has dropped upwards of 20 inches of rain in less than three days causing major flooding in some parts of Florida. After the storm moves away and the water starts receding the cleanup will begin.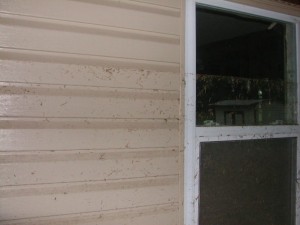 Dirt and sludge, carried about by the water and high winds are everywhere, on the sides of homes, buildings, and all over driveways and sidewalks. How does one even begin to cleanup?
A Perfect Environment
As we saw from the aftermath of Hurricane Katrina, prompt cleanup is essential to preventing an onslaught of mold, mildew, fungus and the sicknesses they cause. Dirt, having been carried about by the water and deposited against a home or on a driveway, becomes lodged deep in surfaces by the high winds. There the moisture from the rain also becomes trapped. As the sun heats up the surface, spores in the dirt multiply rapidly, it is a perfect environment for them. Soon driveway, sidewalks even entire homes are covered in mold and are uninhabitable. While pressure washing would not have been practical after an event like Hurricane Katrina it is very practical after a tropical storm such as the one that just occurred in Florida. Having your home or business pressure washed after a major rain event is the perfect way to ensure that you won't have mold or mildew growing on your exterior surfaces. Only a professional pressure washing expert has the tools and experience needed to deep clean your home or business and remove the trapped in spores before they have a chance to take over.
J&L Professional Services – Here When You Need Us
Raleigh, NC is no stranger to these types of storms. If you have lived in Raleigh for any amount of time then you know that cleaning up after a major storm can be labor intensive. J&L Professional Services has been helping Raleigh residents clean up after storms for over 15 years. Our residential and commercial pressure washing service not only cleans your property but helps protect it from unwanted contaminants such as mold and mildew. Whether you are cleaning up after a major storm or just need a routine cleaning, call or contact J&L Professional Services today to experience the benefits of professional pressure washing for yourself!
Why Choose
J & L Professional Services?
Quality

It's simple really. We're not the cheapest. WE'RE THE BEST.

Insured

Commercially Insured Up To $2,000,000

Experience

Over 20 Years of Experience & Operated by A National Instructor

Guarantee

Backed By Our 100% Satisfaction Guarantee

Reviews

Did We Mention We Have the Highest Customer Rating in Raleigh?