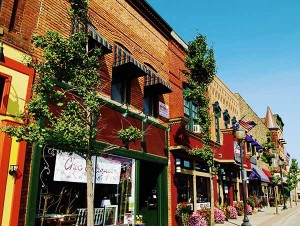 Most business owners understand how a pressure washer can help their property look it's best. After all, pressure washing has the unique ability to remove even the toughest grime in a very short time frame. It is especially effective on surfaces that hand scrubbing cannot clean as well such as parking lots, sidewalks, awnings, and building facades. But pressure washing does just more than clean. Pressure washing directly contributes to the all-important first impression that a customer will form about a business.
Enhancing Visual Appeal
Most consumers readily admit that visual appeal feeds into a positive impression which can then stimulate interest in a business. Consider how just these two areas around your business affect customer impressions:
Exterior Walls – If the exterior walls around your building are dirty your building itself could portray the image of a dull or unsanitary location. Paint and brightly colored awnings, once vibrant, now look muted and do not attract customers. Pressure washing these areas not only removes the dirt and restores colors but it also helps maintain these surfaces so they can last as long as possible, avoiding the need to replace or repaint.
Sidewalks & Parking Lots – These are frequently the most heavily trafficked area of any business (and often cleaned the least). It is precisely because these areas are so heavily used by your customers that they should be power washed more frequently. As your customers park and walk up to your front door these areas have a direct influence on your customers impression of the business. Do oil stains, chewing gum, and tobacco spit really portray the message you want to portray about your business?
A Lasting Impression
Creating a good and lasting first impression of your business is something that every business owner wants to accomplish. Just these two aspects of regular commercial pressure washing service that we discussed here will greatly contribute to a good first impression and enhance your business in the eyes of the customer. With so much on the line it is important that you do not trust your businesses image to just any pressure washing company. Demand the best. ARC Power Washing has been wowing customers for over 15 years and our testimonials speak for themselves. Call or contact us today for your free estimate! (919) 889-0733
Our Commercial Pressure Washing Services Include:
Remove gum, grease, or other unsightly substances from sidewalks or entrances
Remove stains from buildings, signage, and Awning Cleaning
Clean greasy, dirty dumpster areas
Entryway Cleaning
Parking lot Cleaning
Sidewalk Cleaning
Walkway Cleaning
Driveway Cleaning
Building Cleaning
Drive-Thru Cleaning
Stairwell Cleaning