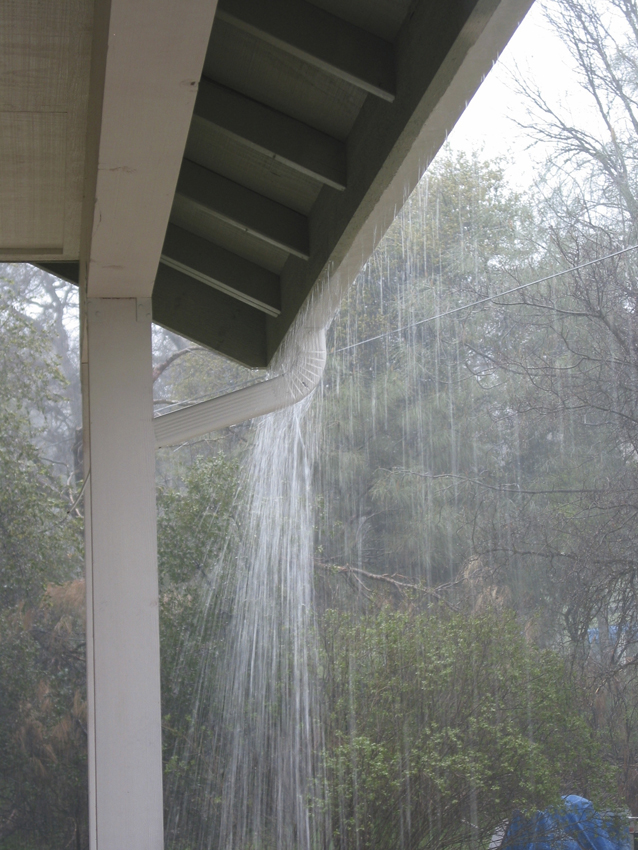 The area around Raleigh, North Carolina has had a very wet spring in 2013 with several severe rainstorms. If you notice water spilling over the front of your gutters during a heavy rainfall and there is not much water flowing out of your downspout, it may be that your gutters are clogged. There are many things that can lodge in your gutters and block the flow of water. In the fall, dead leaves from the surrounding trees frequently congregate in gutters.
In the spring, buds and seedlings fall from the trees and these, too, can land in your gutters. Other debris such as bird's nests, small sticks and even tennis balls have been known to interfere with efficient drainage from gutters and downspouts.
It's important to keep your gutters and downspouts working properly to avoid damage to your siding, insulation or garden beds. You can clean your gutters yourself if you don't mind being in the precarious position of working on a ladder.
A better idea, however, is to use the efficient and reliable gutter cleaning services of ARC Power Washing. Let their gutter cleaning experts handle your blocked gutters and downspouts while you sit back, relax and enjoy clean, free-flowing gutters.
Why Choose
J & L Professional Services?
Quality

It's simple really. We're not the cheapest. WE'RE THE BEST.

Insured

Commercially Insured Up To $2,000,000

Experience

Over 20 Years of Experience & Operated by A National Instructor

Guarantee

Backed By Our 100% Satisfaction Guarantee

Reviews

Did We Mention We Have the Highest Customer Rating in Raleigh?