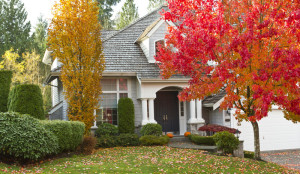 Chilly weather in Raleigh usually kicks off a ritual: You pack away the summer clothes, replace iced tea with hot coffee, and get ready for colder months. While we're planning for wintertime, our windows should, too. Here's our biggest reasons to treat your home to seasonal window cleaning this time of year:
Give holiday decor a reason to shine
Twinkling lights and candlelit windows have a way of exposing your home in sharp relief 24/7. Instead of showcasing smudges and streaks, let the ARC team make sure you're projecting clean, clear glass.
Milk daylight for all its worth
The days are shorter, which means we're getting less sunlight. Dirty window prevent natural lighting from entering your home, while clean ones let those bright days inside. An added bonus? Sunlight is proven to be one of the most powerful ways to fight stress and seasonal depression.
Prepare to wow guests
For many, the holiday season means that your calendar is filled with visitors. Whether they're staying for dinner or a long weekend, you want to welcome them to a home that is inviting and beautiful. Window cleaning gives your property that extra little boost it needs.
Save money for gifts (and treating yourself!)
Energy costs skyrocket during the winter season. Natural lighting is one of the most effective ways to let natural lighting and heat inside, so you don't have to rely on artificial (and costly) sources to do it for you.
Invest in your windows
Many people forget that glass is actually a porous surface, and as such absorbs contaminants over time. To prevent permanent damage, it's important to get your panes cleaned regularly.
The winter season is ahead, and ARC Power Washing wants you to focus on the fun stuff instead of maintenance! Leave the professional window cleaning to us so you can enjoy 'the most wonderful time of the year.'
Why Choose
J & L Professional Services?
Quality

It's simple really. We're not the cheapest. WE'RE THE BEST.

Insured

Commercially Insured Up To $2,000,000

Experience

Over 20 Years of Experience & Operated by A National Instructor

Guarantee

Backed By Our 100% Satisfaction Guarantee

Reviews

Did We Mention We Have the Highest Customer Rating in Raleigh?