Why Choose ARC Powerwashing, LLC?
Commercially Insured Up To $2,000,000
Over 20 Years of Experience
100% Satisfaction Guarantee
Highest Customer Rating in Raleigh
Professional Staff That Cares About You!!
Your One Stop Shop!
House Washing
Driveway, Walkway & Patio Cleaning
Safe Roof Washing
Gutter Cleaning & Brightening
Window Cleaning
Six Common Power Washing Questions, Answered.
So you're looking for a company to come wash your home. But you've got questions about the service, the company, the technique they use, their insurance.  Do you have time to ask 10 companies all these questions and still get a quote?  Don't worry, we're here to help.
1. Will pressure washing hurt my house?
A skilled contractor will not only be confident that his power washing techniques won't hurt your home, he will assure you that your fears are valid. There are plenty of self-proclaimed "professionals" out there who are just looking for beer money. Don't risk it.  Pressure washing your home with too high of pressure or the wrong chemicals could damage your home. Which leads is to question 2:
2. What kind of chemicals do you use when you wash my home?
Depending on the service, the detergents change. For a house wash, we use a professionally mixed soap and sodium hypochlorite blend. THIS IS NOT TO BE CONFUSED WITH BLEACH PURCHASED AT YOUR GROCERY STORE. Clorox has it's uses, but can be mixed too strongly and damage your siding, not to mention your plants.
3. What is soft washing, and do you utilize it?
The term "soft" washing is exactly what it sounds like: soft. The pressure we use to clean most surfaces is barely more than comes out of your garden hose. Couple this with the right blend of detergents and the correct tools, your home is washed safely and effectively.  If you want more details on what happens during our house wash service, take a look at our Pressure Washing Process.
4. Is your company insured?
Yes!  Our company carries the highest limits available in our state. This is an important question to ask, because quite simply, you can't afford for an uninsured contractor to work on your home. Even if its a friend. What happens when someone accidentally falls, slips or trips while working on your property?  You guessed it: you're paying for it. Some homeowners policies have even refused to pay these claims, stating that you as the homeowner should have done your due diligence in finding an insured contractor. C'mon, don't say you're surprised.
5. How long have you been in business?
ARC Powerwashing has been in business since 2006.  The owner has been washing homes in Raleigh since 1994.  That's probably before the majority of our customers even considered moving to Raleigh!  Tremendous insight, technical know-how, and knowledge can only be gained with years of experience. You can be confident in our promise of professionalism.
6. Who will come to my home & how will I recognize them?
Our owner, Alex Curry, will be attending your cleaning along with 1 or 2 cleaning technicians. Alex has an advanced knowledge of washing homes, and is a national instructor for the pressure washing industry. Our crew will be wearing company uniforms and arrive at your home in a well labeled company vehicle and trailer.
Request An Appointment
Our Most Popular Services:
All House Wash Service includes:

Low Pressure Washing of Entire Exterior
Washing of Your Front Porch
Soft Washing with Temperature Controlled Water
Our Gutter Debris Service includes:

Hand Removal and Bagging of All Debris
Flushing of Downspouts
Checking of All Gutters for Damage
Our Roof Cleaning Service includes:

No Pressure Application of Detergent
Low Pressure Rinse to Ensure No Damage to Your Shingles
Protection for All Your Plants
Curious About Our House Washing Process?
The professionals at ARC Powerwashing has been providing pressure washing to the extended Raleigh area for over 15 years.  Many prospects and customers have recently asked about our processes, technique, equipment and detergents.  We have outlined below our standard, low pressure house wash service in detail, so you know what to expect:
Step 1: Preparing Your Home
When ARC Powerwashing arrives at your home, our first step is to get your home prepped for our pressure washing service.  This includes:
Walking around your property and noting areas of concern;

Using soft brushes on extended poles to loosen and remove any cobwebs and other debris;
Saturate the plants around your home with water (low pressure!) to ensure they do not soak up any runoff detergents.
Step 2: (Low) Pressure Washing Your Home
Once your home has been prepped for our low pressure washing service, we begin the cleaning!!

A low pressure is used to pre-treat your home with temperature controlled water.
A foaming detergent is then applied, one side at a time, to your home's exterior.
Scrub brushes are used to agitate the detergent in areas of notable dirt or mold buildup.
For brick homes, the detergent may be applied several times to ensure the best possible clean (since brick is a porous surface).
If you have tender plants, a steady stream of water is applied at low pressure.
Step 3: Rinsing Your Home
Once the detergent has been allowed to do it's magic, a low pressure rinse is applied.

The rinse is completed one side at a time while following the technician who is applying the detergent.

This way, two technicians are working on one side of your home at a time to ensure the best possible pressure washing outcome!
This step may be repeated until all the detergent has been properly rinsed from your home.
Step 4: Reviewing Our Pressure Washing Work
After the final rinse, both technicians review your home to ensure a professional cleaning.

Our results are guaranteed or we'll come back and wash your home again!
Request An Appointment
Written By: Alex Curry
Summary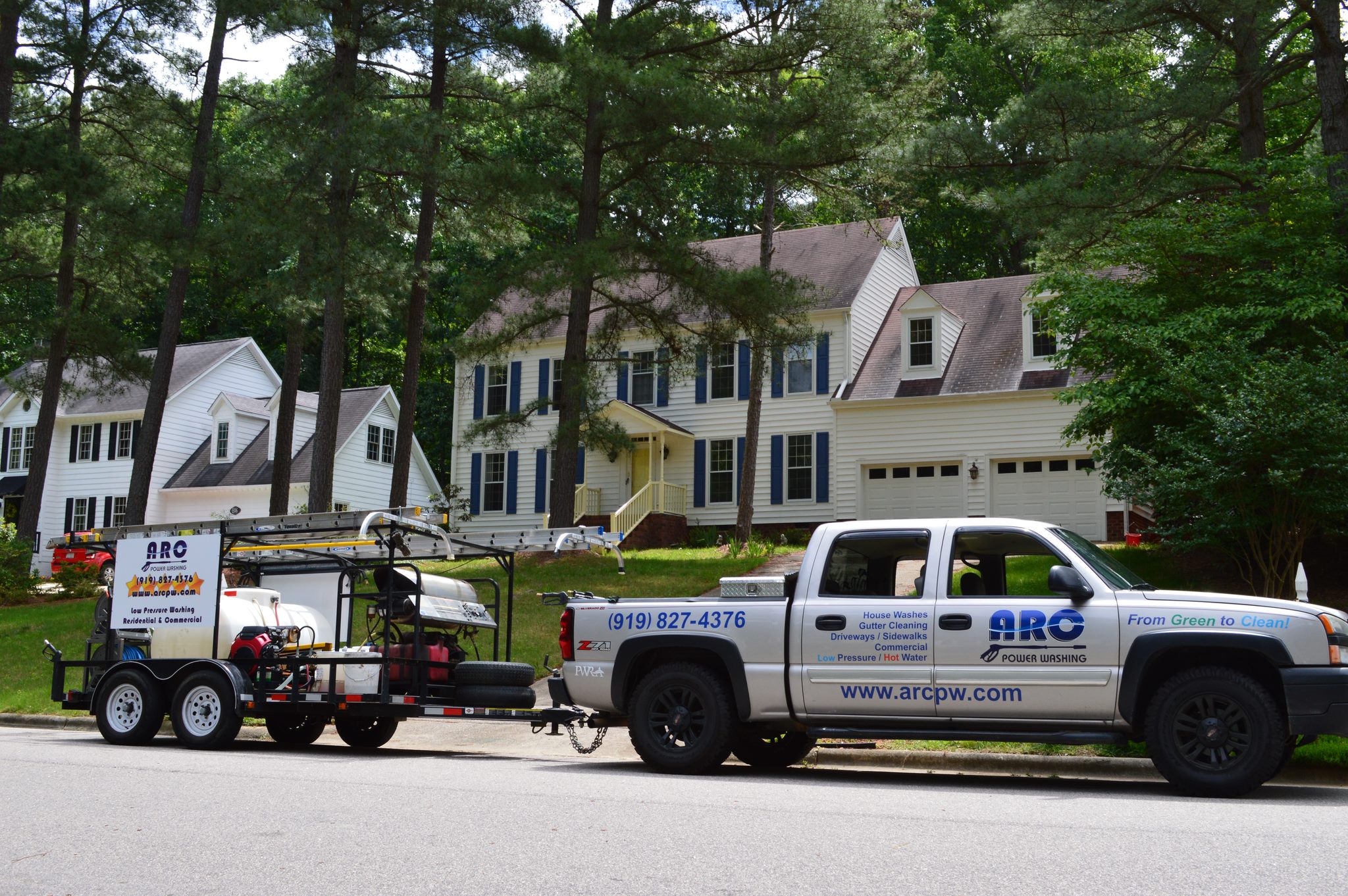 Article Name
Highest Rated Pressure Washing Company in Raleigh
Author
Description
ARC Powerwashing provides a wide range of pressure washing services to the Raleigh area. We've been in business for over 8 years and have over 15 years of experience. We also carry a $2,000,000 commercial insurance for your peace of mind, as well as provide a "Repeat Your Service No Questions Asked" Satisfaction Guarantee.